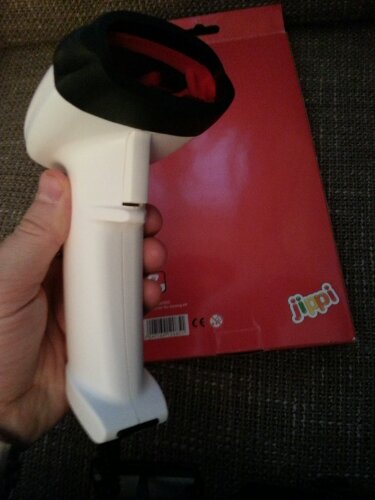 Yesterday I got a note from the post office that told me that a package could be picked up.  I could see that the package was from China, but that was all.  I buy all kinds of stuff from China that costs a few bucks, so this could be anything.  When these packages arrive three weeks later, I have often forgotten about it.  So what could this be?  This was kind of like  Christmas 🙂
It showed up to be one of the two barcode scanners I had bought from eBay. I will tell more about my plans for these barcode scanners later.
The scanner has a USB interface.  I didn't know anything about what kind of interface it was, so I just hoped it was a USB keyboard.  In the worst case scenario I would have to make a driver for it.
The setup method was very cool.  The manual actually just consisted of a very long list of bar codes that would make the device do stuff.  One beep would make it work as a USB keyboard (not a serial device).  I can also configure if it should end with CR, LF, CR+LF or nothing.  There were also a bunch of other modes.
The scanner has a laser beam that is activated by a button.  It is very fast and accurate, and works in low light. Very cool!
I bought two that looked similar and had very similar specs.  The reason I bought two was because I wanted at least one that could be used in Linux, and since they were cheap, I bought two.  Could be practical anyways 🙂  I expect the other to arrive soon since they were both shipped from Chine about the same time.