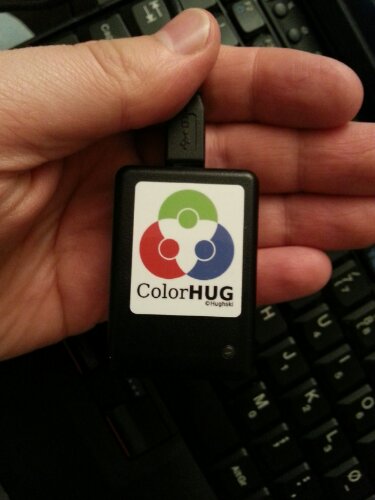 As a hobby photographer using Linux, I have been quite frustrated with the color profiles of my screens. More than once, I have adjusted the colors of an image manually, only to be surprised when I get a print back and the image is way too red. Last week a ColorHug arrived at my post office, the solution to all my color frustrations.
The ColorHug is a small USB device with a light sensor that is attached to the monitor and measures the red, green and red values of a spot on the screen.
The device has only got drivers for Linux, but you can run a live cd with Linux and export the ICC profile and use it in Windows and Mac OS X as well. As I run Linux, this is my best option at the moment.
In Ubuntu 12.10 (which I use at the moment), all the software you need is bundled, although not at the latest version. I just had to do a apt-get install dispcalgui to be up and running.
The process is quite simple: DispcalGUI shows a big rectangle on the screen. Using a supplied strap, the ColorHug is placed on this rectangle. Before the auto-testing starts, you can adjust the color settings on the monitor to be as close as possible to neutral. Every second or so, you get feedback of the current settings.
When you are satisfied with the monitor settings, the software runs for a little less than an hour, showing all kinds of colors with different brightness, and then measure the values.
The result is an ICC profile. In Unity it only takes a few clicks to install the profile for the monitor. You have to repeat the process if you have more than one monitor.
I have now tried this on four different displays; two laptop displays and two external displays. For the external ones, the change was quite noticeable, but for the laptops, the change was huge. I can't believe how blue my screens used to be. At first it seems a bit red, but after using it for a week and then switch back, the old settings seems horrible light blue-ish.
The device cost £60 plus £8 signed for postage. In addition I had to pay Norwegian taxes. This was a great investment. I will never work on a un-adjusted display ever again 🙂